The brilliant Madeleine Maddocks is holding a guess-and-tell Blogfest. She says:
"Describe a person's living space in no more than 500 words so that we can vividly imagine the absent person.

Then guess from the descriptions posted who lives in a room like this."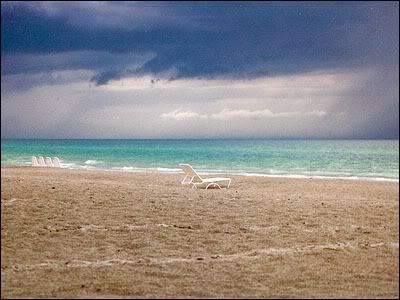 Mounds of paper scattered as the salty breeze whispered through the curtains. A billowy quill fluttered before settling into a standstill. Beside that, droned a partially closed laptop. Its quiet whir vibrated lightly across the oak-grained surface of the Elizabethan writing desk. Steam curled lazily when the breeze silenced, a mug of coffee staining the surface.
The swivel chair--a contrast in centuries to its oaken companion--faced a blue vista of sighing waves where an old easel resided. On it, sat an oil rendition of royal hues from deep rose to dancing purples over the ocean deep. A collection of brushes angled into several directions in a rusted can, old paint a thin coat beneath each tuft.
In the sandy distance, a chair reclined. A place of renewal, a place of meditation, a place of awareness.
------------------
Let's go read the others' entries, just click on button below. ;)
Who do you think would live in a place like this? Please leave your answer in the comments (I will reveal the absent person on Sunday's post)!
Thanks for visiting, have a great weekend!