Being a fan of Michele's, I knew that I was in for a real treat as I snuggled into my bed to read
Hometown Girl, Book Two of the Butterfly Box Series
. (I know that I'm missing out in the series if I don't read Book One.)
Jocelyn Rogers is living comfortably in her little life surrounded by everything she could ever want. Good friends, a great job, and the nice city of St. George.
That all changed with a single telephone call.
The mayor of quaint little Milford Falls is distressed over the condition of a dollhouse cottage in his trim residence. Jocelyn must return and fix it up or he'll sell it. What makes it a hard choice is that she loves her life, but yet, she also loves the cottage, once belonging to her grandmother before she had passed on.
Encouraged for a fresh start and adventure, Jocelyn follows her friends' enthusiastic urges.
This story is about growth, friendship, love, and forgiveness. Every character is vividly painted, realistic, yet lovable. They breathe their heart into mine, sharing their love, and secrets that whisper quiet strength to me.
My favorite part is when Jocelyn finally finds the courage to move on, and realizes that the Lord loves her and that she can love others wholly as well. That part really brought tears to my eyes because I've been there, too!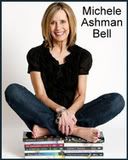 Michele Ashman Bell
still amazes me with her perception of heart, love and courage and what it takes to reach across the pages of a book to touch the reader in so many ways.
Enter her contest
now
for a chance at a $50.00 Visa gift card!
Add this wonderful read to your library today (
here
or
here
)!